Marco Polo: From Venice to Xanadu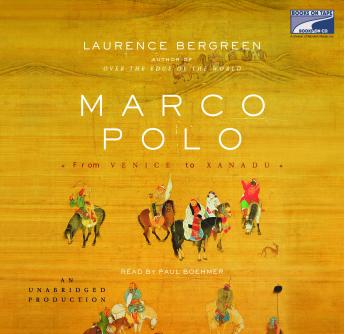 Duration:
16 hours 30 minutes
Summary:
As the most celebrated European to explore Asia, Marco Polo was the original global traveler and the earliest bridge between East and West. A universal icon of adventure and discovery, he has inspired six centuries of popular fascination and spurious mythology. Now, from acclaimed author Laurence Bergreen, comes the first fully authoritative biography of one of the most enchanting figures in world history. In this masterly work, Marco Polo's incredible odyssey–along the Silk Road and through all the fantastic circumstances of his life–is chronicled in sumptuous and illuminating detail.

Drawing on original sources in more than half a dozen languages, and his own travels along Polo's route in China and Mongolia, Bergreen explores the lingering controversies surrounding Polo's legend, settling age-old questions and testing others for significance. Synthesizing history, biography, and travelogue, this is a timely chronicle of a man who extended the boundaries of human knowledge and imagination. Destined to be the definitive account of its subject for decades to come, Marco Polo takes us on a journey to the limits of history–and beyond.
Genres: