Marijuana & Growing Secrets - 2 in 1: The Ultimate Beginner's Guide to Personal and Medical Cannabis Cultivation Indoors and Outdoors + How to Grow Psilocybin Magic Mushrooms and Use Them Safely
Unabridged Audiobook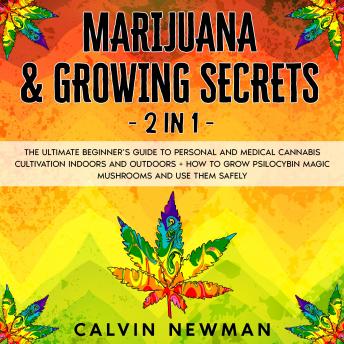 Duration:
7 hours 29 minutes
Summary:
THE ULTIMATE BLUEPRINT FOR GROWING YOUR OWN MARIJUANA & MUSHROOMS (EVEN IF YOU'VE NEVER GROWN A PLANT BEFORE)

● Do you have a health condition like chronic pain or a mental health issue where medical cannabis would help?

● Or are you simply interested in growing weed or mushrooms for recreational purposes but don't know where to start?

Either way, this is the only growing audiobook you'll ever need.

This marijuana growing guide is aimed at beginners like you - people who have a good reason to use cannabis but are fed up with buying overpriced marijuana from shady dealers. Why pay for something you can grow yourself - even in the tiniest apartment?

Cannabis plants might be easy to grow and relatively hard to kill, but getting impressive yields and high-quality weed takes more than just planting some seedlings and watering them whenever they look sad. You need to carefully plan your grow space, make sure the lighting is perfect, keep your plants pest-free without using toxic chemicals (unless you want to smoke pesticides) and pay attention to many other details. But don't worry, this book makes growing top-quality cannabis as easy as following a simple step-by-step instruction!

HERE'S A SNEAK PEEK OF WHAT YOU'LL FIND INSIDE:

● What sellers won't tell you about the different strains of cannabis, their effects and their cultivation

● The differences between indoor and outdoor weed growing methods - and how to set up your grow space without overpaying

● A complete step-by-step guide that will take you from taking care of your seedlings to enjoying your very first harvest

● Typical beginner pitfalls to watch out for - don't lose your plants because of a silly mistake that could have been prevented easily!

● How to grow your first psilocybin mushrooms

● And much more!

SCROLL UP, GET THIS AUDIOBOOK, AND START GROWING TODAY!
Genres: