The Marketing & Business Growth Playbook: The Essential Blueprint for Clarifying Your Message, Generating More Profits, and Growing Your Small Business
A free trial credit cannot be used on this title.
Unabridged Audiobook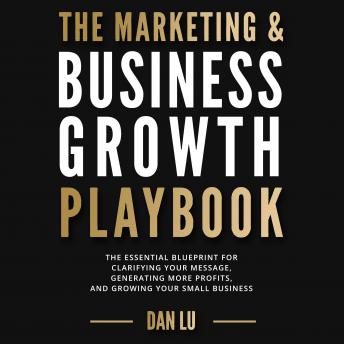 Duration:
5 hours 57 minutes
Summary:
Are you an action-oriented achiever who wants a powerful, easy-to-follow roadmap to generate more sales and improve your bottom line? Sadly, most entrepreneurs and their companies are performing well below their potential. It's not due to lack of great products or services—it's due to poor strategy.

This is not a marketing or business book that's full of fillers and fluff (like most others). The Marketing & Business Growth Playbook will help you attract your ideal market, optimize your lead and sales process for higher conversions, and effectively scale your business.

In this groundbreaking book, you'll learn:


- How to master your message to attract your perfect, target customers/clients
- A variety of growth strategies so you have multiple approaches for scaling your revenue
- How to turn your traditional website into a lead and sales-generating machine
- How to ethically "spy" on your competitors to gain an advantage in your marketplace
- The 5 groups of people who make up your business and will help you reach your goals faster
- And much more

This book will help you gain clarity, reduce overwhelm, save money, and of course, make more money. You'll unlock more freedom so you can do more of the things you want in both business and in life.

If you're a passionate, driven entrepreneur who's looking to improve and grow your company, then this book is a must for creating your ultimate marketing and business strategy so you can impact more people with your products and services, change their lives, and change yours as a result!

Buy the book now!
Genres: