Material Girl, Mystical World: The Now-Age Guide for Chic Seekers and Modern Mystics
Unabridged Audiobook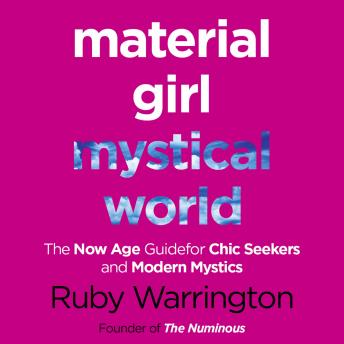 Duration:
9 hours 7 minutes
Summary:
READ BY THE AUTHOR



From tastemaker Ruby Warrington comes an essential guide to merging style with soul, beauty with bliss, and karma with cool for a life that is both fabulous and meaningful.


As former Features Editor of the Sunday Times Style magazine, Ruby Warrington has always had her finger on the pulse of what's trending. The influential force behind The Numinous, the high-vibe on-line magazine about spirituality for modern women, not only is Ruby deeply connected the 'now age' spirituality scene, she is also one of the leading faces of the new seeker movement, where hippie meets hipster.


Smart, funny and incisive, Material Girl, Mystical World invites readers on a colourful journey to discover their own path to personal enlightenment in every area of life from love, sex and relationships to fashion and beauty, and health and wellness. Whether teaching readers how to read the tarot the now age way, do a psychic closet clear out, date mindfully or weave the power of the divine feminine into their career and relationships, Warrington embraces the realities of modern life with intelligence and humour.


Punctuated with beautiful illustrations and full of insight from some of the coolest people at the intersection of style, culture and spirituality, Material Girl, Mystical World is the must-have guide for modern seekers – 'material girls' who know that enlightenment doesn't have to mean leaving the pleasure of the everyday world behind.
Genres: