MBA in a Book: Mastering Business with Attitude
Unabridged Audiobook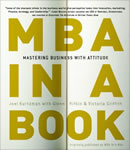 Duration:
13 hours 50 minutes
Summary:
Practical ideas from the best brains in Business

A sharp, jargon-free guide to the core curriculum of an MBA program, MBA in a Book shows how to master the big ideas of business and use them in a practical way to build and enhance career success.

"In the world of business, ideas matter. . . . Some of the sharpest minds in the business world give perceptive looks into innovation, marketing, finance, strategy, and leadership, providing stimulating, useful perspectives on these core topics."
—Larry Bossidy, retired chairman and CEO of Honeywell International and coauthor of Execution: The Discipline of Getting Things Done

Great business thinkers such as Michael Porter, Rosabeth Kanter, and Bill George of Harvard Business School; Paul Argenti of the Tuck School at Dartmouth; Jeffrey Sonnenfeld of Yale; Peter Senge of MIT; the entrepreneur and inventor Dean Kamen; and the financial innovator Michael Milken are just a few of the best brains in business, providing the intellectual nourishment that will help you play the game of business at the highest level.
Genres: