Measure for Measure
Unabridged Audiobook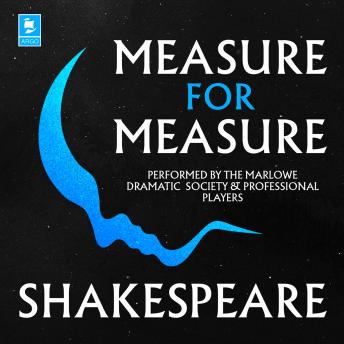 Duration:
2 hours 30 minutes
Summary:
William Collins Books and Decca Records are proud to present ARGO Classics, a historic catalogue of classic prose and verse read by some of the world's most renowned voices. Originally released as vinyl records, these expertly remastered stories are now available to download for the first time.


'Our doubts are traitors,
and make us lose the good we oft might win,
by fearing to attempt.'


Vienna is beset with brothels and loose morality, so it's up to the Duke to provide some divine intervention.


The Duke leaves Angelo in charge of Vienna, where he quickly condemns Claudio to death for immoral behaviour. Angelo offers to pardon Claudio if his sister, Isabella, sleeps with him. Isabella agrees but has Angelo's fiance switch places with her. The Duke returns to spare Claudio, punish Angelo, and propose to Isabella.


All of the Shakespeare plays within the ARGO Classics catalogue are performed by the Marlowe Dramatic Society and Professional Players. The Marlowe was founded in 1907 with a mission to focus on effective delivery of verse, respect the integrity of texts, and rescue neglected plays by Shakespeare's contemporaries and the less performed plays of Shakespeare himself. The Marlowe has performed annually at Cambridge Arts Theatre since its opening in 1936 and continues to produce some of the finest actors of their generations.


Thurston Dart, Professor of Music at London University and a Fellow of Jesus College Cambridge, directed the music for this production.


The full cast includes: Toby Robertson; George Rylands; John Bird; Richard Marquand; Anthony Jacobs; Derek Jacobi; Chris Renard; Terrence Hardiman; Roger Prior; David Brierley; Donald Beves; John Kimber; Clive Swift; Janette Richer; Dorothy Mulcahy; Penelope Balchin; Camille Prior; George Rylands.
Genres: