The Memory Quilt: A Christmas Story for Our Times
Unabridged Audiobook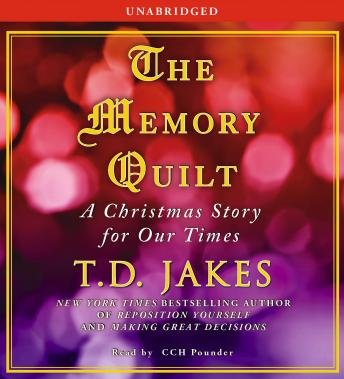 Duration:
4 hours 17 minutes
Summary:
Bishop Jakes weaves inspirational life lessons into this tender and touching tale, a thoughtful reflection on our actions throughout the giving season and all year-round.

Lela Edwards wants nothing more than to spend the holidays with her family. But her husband of fifty years passed away recently, her daughters live far from their old Chicago neighborhood, and her granddaughter, Darcie, is avoiding her grandmother for fear Lela will judge her decision to get a divorce. Irritated and lonely, Lela concentrates on the lessons of the Virgin Mary with her Bible study group and begins to piece together an unfinished quilt she set aside long ago.

The cold winter brings some unexpected rough patches for Lela and her loved ones. The closer she examines the Scriptures, the more she realizes how quick she is to find fault with the people around her. Lela soon discovers she has woven the Virgin Mary's lessons into the handiwork of the quilt, a reminder that by following the guidance of the cherished story we revisit every December to celebrate the meaning of Christ, she can learn from her mistakes and find favor with God.

Readers everywhere will find an uplifting message of hope in this heart-warming story.
Genres: