Mental Illness: How to Kill Negativity, Influence Your Mind and Learn Body Language Techniques
A free trial credit cannot be used on this title.
Unabridged Audiobook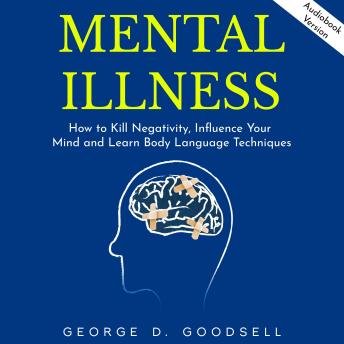 Duration:
3 hours 28 minutes
Summary:
Recover From Brainwashing And Mental Illness And Take Back Control Of Your Life For GoodBrainwashing, by definition, is the wielding of one's social influence to manipulate another's way of thinking and acting… often against their will.

Being the victim of brainwashing is awful on all accounts.

You lose all your sense of identity and you are made to act in ways that you have no psychological control over. If you're a victim of this horrible act, we feel for you and we're here to help!

In this book, you will learn:
- How brainwashing breaks down a person's sense of self
- The possibility of healing and regaining control
- How to end the isolation
- How to acknowledge and overcome painful thoughts and anxieties
- How negative thoughts can exacerbate mental illness
- Using healthy, positive thinking to cope with negative effects
- The small, practical habits that DESTROY negativity
- Reconditioning the mind for success
- How to read negative body language and project positive body language
- And much more!

When you've been stripped of all psychological autonomy, the future may seem bleak. But it doesn't have to be that way forever. Take back control and live a successful, independent life with the help of this book!

Scroll up and Click on "Buy Now" today!
Genres: