Meow stories 1: All Mine / The visit / What a Goal
Unabridged Audiobook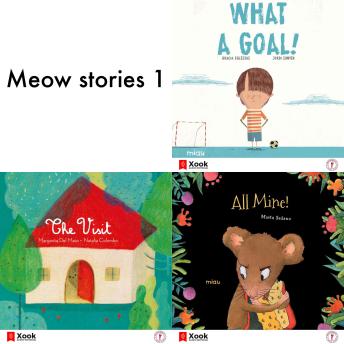 Duration:
0 hours 9 minutes
Summary:
English version of Marta Sedano's audiobook Para mi solito.
Pepito, the little mouse, finds a treasure that he wants to keep for himself. Your new friends will teach him that sharing makes you happier.
English version of Gracia Iglesias's audiobook ¡Qué golazo!
The boys in the neighbourhood like to play football on the track. But what happens when one day they arrive and the track is busy?
A story about football, friendship, and how controversial situations can have an unpredictable ending.
English version of Margarita del Mazo's audiobook La visita.
Every night he comes to visit me. From my hiding place I can see him when he approaches. It is such a strange and ugly creature that it scares. I would eat it!
A story of tolerance, of fears, of what scares the different and shows us that not being different from us is bad, you just have to know it.
Genres: