Meow stories 2: Chumfley / Cloudball / Foxpainter / Valentina has two houses
Unabridged Audiobook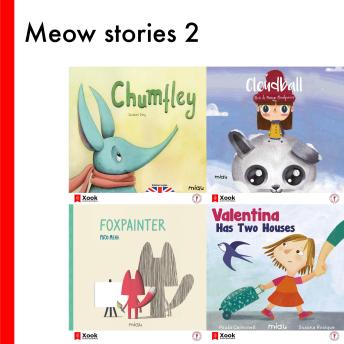 Duration:
0 hours 12 minutes
Summary:
English version of Isabel Rey's audiobook Chumfley.
Would you like to know what animal is a Chumfley? Do you want to get to know this rare animal better? Learn about little-known animals in this book. Have you ever seen an aardvark? Do you know what chinchillas eat? What is a golden trunk elephant shrew?
English version of Alex de Marcos's audiobook Bolita de nube.
Sometimes snow can bring unexpected friendships ... And sometimes the people you love have to leave ... It is not always easy ..., we are not always prepared ... This book allows us to approach the separation and loss of a loved one from a of tender and hopeful view.
English version of Pato Mena's audiobook Zorro pintor.
Famous Painter-Fox is feeling inspired and has set out to paint a new painting. Who wouldn't want to be involved? At first he wants to paint a realistic painting, but he keeps changing his mind and wants to paint a surrealist painting, and then a minimalist one... in the end he will create his painting using all these styles. A story which introduces young readers to the basics of History of Art and makes them reflect on the importance of teamwork.
English version of Paula Carbonell's audiobook Valentina tiene dos casas.
Valentina has two houses, and a lot of things in each of them, but there are days when whoever she wants is not there when she wants. What happens to Valentina happened, happens and can happen to many more children and many more times.
Genres: