Michael Jordan: A Unique Insight into the Career and Mindset of Michael Jordan (What it Takes to Be Like Mike)
Unabridged Audiobook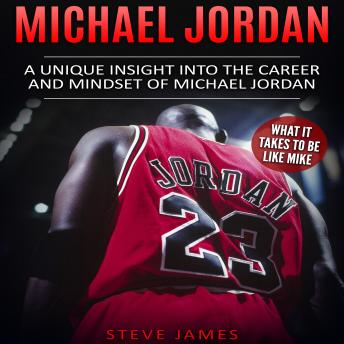 Duration:
1 hours 13 minutes
Summary:
Do your hoop dreams seem out of reach? Discover insider secrets from a legendary NBA pro to take your game to new heights.Are you tired of warming the bench? Do daily drills and practice make no difference in your game? Does a career in basketball seem impossible? Steve James has made a lifetime study of Michael Jordan's rise from repeated failure to NBA legend. And now he's here to share the secrets behind Michael Jordan's winning record so you can follow in his footsteps.

Michael Jordan: A Unique Insight into the Career and Mindset of Michael Jordan is an incredible account of the many trials and tribulations the legendary baller overcame so he could dominate the courts. Through Steve James' step-by-step instructions, you'll learn to apply the same unique techniques and training systems that made Michael Jordan a household name. Whether you're a newbie or semi-pro, you'll discover the secrets to awaken your inner Air Jordan.

In Michael Jordan, you'll discover:
- Detailed daily workouts and training regimes to bring your game into the next league
- Daily inspiration from His Highness' one-of-a-kind rituals and superstitions
- The steps MJ used to overcome his greatest failures and how you can leap your own hurdles
- Little-known facts about the NBA superstar to inspire your own personal journey
- The motivational lesson behind the number 23 and much, much more!

Michael Jordan is a practical handbook and inspirational biography that's perfect for any fan of the game. If you like expert advice, easy-to-follow illustrated techniques, and practical success principles, then you'll love Steve James' buzzer-beating biography.

Buy Michael Jordan for a nothing-but-net guide to dominating the scoreboard today!
Genres: