Micromastery: Learn Small, Learn Fast, and Unlock Your Potential to Achieve Anything
Unabridged Audiobook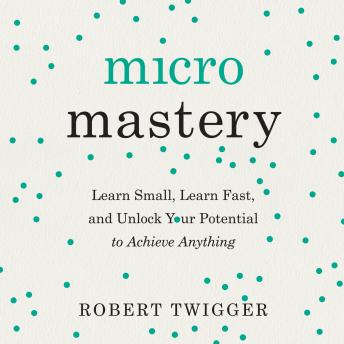 Duration:
5 hours 39 minutes
Summary:
Want to be a lifelong learner? Think small.

Forget spending 10,000 hours in the pursuit of perfecting just one thing. The true path to success and achievement lies in the pursuit of perfecting lots and lots of small things--for a big payoff.

Combining positive psychology, neuroscience, self-help and more, this delightfully illuminating book encourages us to circumvent all the reasons we 'can't' learn and grow (we're too busy, it's too complicated, we're not experts, we didn't start when we were young) -- by tackling small, satisfying skills.

Wish you were a seasoned chef? Learn to make a perfect omelette. Dream of being a racecar driver? Perfect a handbrake turn. Wish you could draw? Make Zen circles your first challenge. These small, doable tasks offer a big payoff -- and motivate us to keep learning and growing, with payoffs that include a boost in optimism, confidence, memory, cognitive skills, and more.

Filled with surprising insights and even a compendium of micromastery skills to try yourself, this engaging and inspiring guide reminds us of the simple joy of learning -- and opens the door to limitless, lifelong achievement, one small step at a time.

Micromasteries presented in the book (with illustrations) include: Learn How to Climb a Rope, Surf Standing Up, Talk for Fifteen Minutes about Any Subject, Bake Artisan Bread, Juggle Four Balls, Learn to Read Japanese in Three Hours, and more.
Genres: