MiG Alley: The US Air Force in Korea, 1950-53
Unabridged Audiobook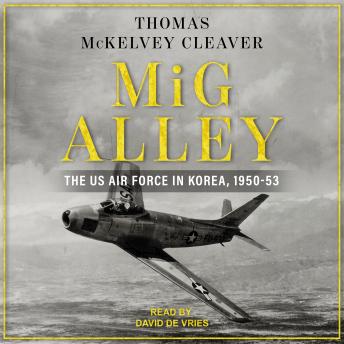 Duration:
14 hours 13 minutes
Summary:
Of the many myths that emerged following the end of the Korean War, the prevailing one in the West was that of the absolute supremacy of U.S. Air Force pilots and aircraft over their Soviet-supplied opponents. The claims of the 10:1 victory-loss ratio achieved by the U.S. Air Force fighter pilots flying the North American F-86 Sabre against their communist adversaries, amongst other such fabrications, went unchallenged until the end of the Cold War, when Soviet records of the conflict were finally opened.

From that point onwards, a very different story began to emerge. Far from decisive American victories over an unsophisticated opponent, the aerial battles of the Korean War were, at least in the early years, evenly matched affairs, fought to an approximate 1:1 victory-loss ratio. Though the Soviet victories declined over the following years, this had more to do with home politics than American tactics.

In addition to the aerial combat over MiG Alley, this title covers the full range of U.S. Air Force activities over Korea, including the failed strategic bombing campaign and the escalating nuclear threat. Incorporating first-hand accounts from those involved, both U.S. and Soviet, this new history of the U.S. Air Force in Korea reveals the full story of this bitter struggle in the Eastern skies.
Genres: