Mildred Pierced
Unabridged Audiobook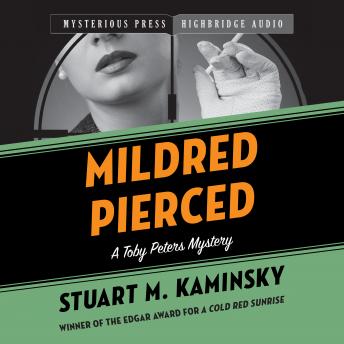 Duration:
6 hours 28 minutes
Summary:
Mildred Minck is an unremarkable woman-until one tragic night in June 1944 when she becomes the first citizen of Los Angeles to be murdered by crossbow. The prime suspect is her husband, dentist Sheldon Minck, who's found standing over her body with the weapon in hand, raving that only Joan Crawford can identify the killer. It seems like a natural insanity defense, but Sheldon wants his neighbor, private investigator Toby Peters, to prove his innocence. The dentist is telling the truth about one thing: Joan Crawford was there.

The steely silver screen beauty is in the middle of a comeback, about to star in a film noir based on a James M. Cain novel, and insists Peters keep her name out of the papers. In exchange, the glamorous eyewitness points the sleuth toward the Survivors of the Future, a band of crackpot survivalists that the dentist was hoping to join. Sheldon's new friends want him sprung, but only because they want him dead . . .

With its 'irresistible' title, Edgar Award winner Stuart M. Kaminsky's penultimate Toby Peters mystery shines a spotlight on the legendary screen diva as well as one of the favorite supporting characters of the series (The Washington Post).
Genres: