Milk Glass Moon
Abridged Audiobook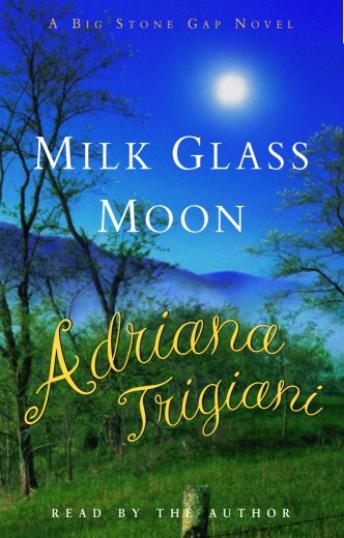 Duration:
5 hours 15 minutes
Summary:
In BIG STONE GAP, Ave Maria discovered who she was and embraced the love she deserved. In BIG CHERRY HOLLER she learned how to love another unconditionally. In MILK GLASS MOON, Trigiani's richest, most satisfying novel yet, Ave Maria faces the true test of love: letting go.

MILK GLASS MOON finds Ave Maria with time slipping through her hands. Her daughter, Etta, is growing up and facing adulthood, making choices that surprise and worry her mother. Her friends in Big Stone Gap are going through major life changes of their own, and her husband is determined to reinvent his life with some bold choices that no one, least of all Ave Maria, could have predicted. On this hayride of upheaval and change, Ave is led unexpectedly to matters of faith and conscience, generosity and meaning, which prompt her to reach back to her own relationship with her mother for clarity and answers.

With her trademark humor, honesty, heart and engrossing storytelling ability, Trigiani masterfully weaves a perfect and powerful endnote to her trilogy.
Genres: