Mindfulness Meditation: The Best Techniques for Beginners and Skeptics to Eliminate Anxiety and Stress From Your Fidgety Mind. Improve Your Life With This Self-Healing and Self-Help Guide
A free trial credit cannot be used on this title.
Unabridged Audiobook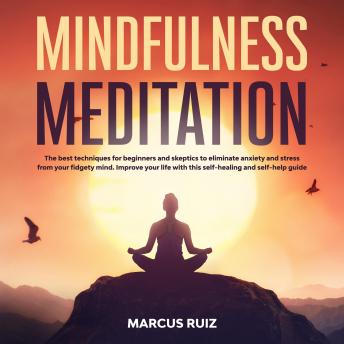 Duration:
3 hours 39 minutes
Summary:
Do you want to be a master of your mind?Do you want to learn how to manage attention, emotions, and thoughts?Do you want to eliminate stress and anxiety forever, improve your mood, and the ability to change some automatic ways of reacting?With 'Mindfulness Meditation', we can value our lives, rather than hurrying through them, continually attempting to get elsewhere. Being mindful can likewise assist us with being less cleared away by our ground-breaking, constant flows of thought and feeling, which can show as stress, sorrow, negative reasoning, anxiety, outrage, disdain, or self-question. 

This book is a practical guide to Mindfulness Full of down to earth exhortation on building up a meditation practice, Written in agreeable, clear language, Containing sections on adoring Mindfulness, meditation, and fixation.

In 'Mindfulness Meditation', you will discover:


- WHAT IS MINDFULNESS MEDITATION
- WHY MINDFULNESS WORK
- WHAT IS MEDITATION
- ANXIETY/STRESS REDUCTION AND ALL TYPE BENEFITS OF MEDITATION
- THE IMPORTANCE OF BREATHING
- THE POSITIONS AND PRACTICAL ASPECTS TO START MEDITATING BASIC MINDFULNESS EXERCISE DIVIDED INTO SEPARATE SECTIONS
-  MINDFULNESS OF BREATHING
- MINDFULNESS OF EATING
-  EXERCISES TO SLEEP BETTER
- EXERCISES TO CALM THE MIND, THE BODY, AND EMOTIONS
- EXERCISES FOR EVERYDAY MINDFULNESS
- USEFUL TIPS AND SUGGESTIONS FOR THE MINDFULNESS PRACTCE

If you want to eliminate stress and feel better for a long time, you must learn how to manage mindfulness meditation techniques to apply at any time of your day!Click the BUY NOW button on this page to get started!
Genres: