Miracle: The Ideas of Neville Goddard
Unabridged Audiobook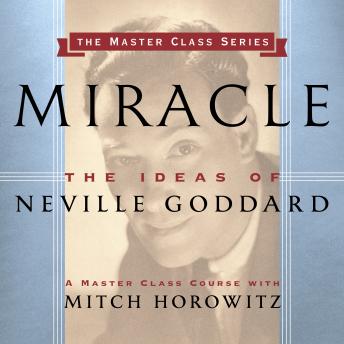 Duration:
0 hours 58 minutes
Summary:
Within You Is a Power Greater Than Any You Ever Imagined-
Discover the Life-Changing Ideas of Neville Goddard


In this concise Master Class, PEN Award-winning historian and New Thought scholar Mitch Horowitz guides you through the methods of Neville Goddard, one of the most radical mystical voices of the past century.

Neville taught one simple idea: your imagination is God, and if you properly learn to harness it, you can literally shape your world.

Mitch provides a three-step guide to Neville's methods, and something much more: He grapples with the question of tragedy and loss, and how we can understand the workings of mind-causation in our complex world.

Never dodging difficult questions, never settling for pat answers, Mitch presents a challenging, practical, and incredibly engaging look into the ideas of a metaphysical master. Both newcomers and veterans will come away with a different perspective on their lives.
Genres: