Miral
Unabridged Audiobook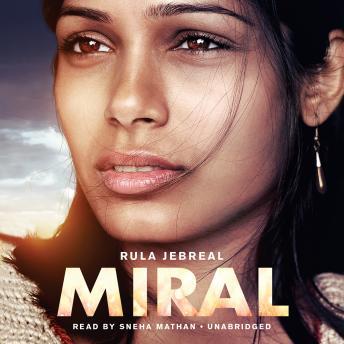 Duration:
8 hours 55 minutes
Summary:
Now a major motion picture from award-winning director Julian Schnabel, starring Freida Pinto (Slumdog Millionaire)
Written by the much-admired Italo-Palestinian journalist Rula Jebreal, Miral is a novel that focuses on remarkable women whose lives unfold in the turbulent political climate along the borders of Israel and Palestine.
In 1948, as violence erupts in Jerusalem, a young Arab woman, Hind Husseini, finds fifty-five abandoned children and faces the biggest challenge of her life—changing their destiny. She dedicates her life to providing the children with love and education, and establishes the Dar El-Tifel orphanage. As the years pass and the conflict rages on, Hind finds that—despite her best efforts—some of her older students are taking part in the violent struggle for Palestinian independence, including one of her brightest students, Miral, whose mother died tragically when her daughter was only five. Hind desperately races to save Miral from this legacy of destruction. But is she too late?
Genres: