Misspent Youth
Unabridged Audiobook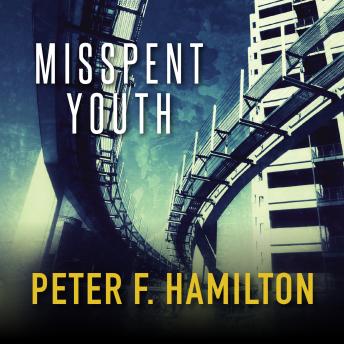 Duration:
12 hours 40 minutes
Summary:
2040: After decades of research, scientists of the European Union believe that they have at last conquered humankind's most pernicious foe: old age. For the first time, technology holds out the promise of not merely slowing the aging process but actually reversing it.

The first subject for treatment is seventy-eight-year-old philanthropist Jeff Baker. After eighteen months in a rejuvenation tank, Jeff emerges looking like a twenty-year-old. And the change is more than skin deep. From his hair cells down to his DNA, Jeff is twenty-with a breadth of life experience. But while possessing the wisdom of a septuagenarian at age twenty is one thing, raging testosterone is another, as Jeff soon discovers. Suddenly his oldest friends seem, well, old. Jeff's trophy wife looks better than she ever did. His teenage son, Tim, is more like a younger brother. And Tim's nubile girlfriend is a conquest too tempting to resist.

Jeff's rejuvenated libido wreaks havoc on the lives of his friends and family, straining his relationship with Tim to the breaking point. It's as if youth is a drug and Jeff is wasted on it. But if so, it's an addiction he has no interest in kicking.
Genres: