Money Management: The Ultimate Guide to Budgeting, Frugal Living, Getting out of Debt, Credit Repair, and Managing Your Personal Finances in a Stress-Free Way
Unabridged Audiobook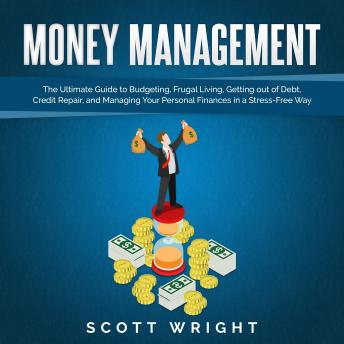 Duration:
6 hours 19 minutes
Summary:
If you want to discover how to take control of your money and boost your credit score, then pay attention...
Two manuscripts in one audiobook:
Money Management: An Essential Guide on How to Get out of Debt and Start Building Financial Wealth, Including Budgeting and Investing Tips, Ways to Save and Frugal Living IdeasCredit Repair: The Ultimate Guide to Boosting Your Credit Score, Paying off Debt, Saving Money and Managing Your Personal Finances in a Stress-Free WayDo you want to be in total control of your expenses and the money you make?
Have you tried writing your income and expenses down...but nothing seems to work for more than a few weeks?
Do you finally want to say goodbye to worry surrounding money and discover something which works for you?
If so, then you've come to the right place.
In part 1 of this audiobook, you will learn about:
The Money MindsetDebt - Getting Out of It and HowBudgeting for BeginnersSimple Ways to Save Every DayInvesting for BeginnersAnd much, much more!Some of the topics covered in part 2 of this audiobook include:
Boosting Your Credit ScorePaying Off DebtSaving MoneyManaging Your Personal Finances in a Stress-Free WayAnd much, much more!So if you want to learn more about money management and credit repair, scroll up and click the 'add to cart' button!
Genres: