The Money Will Follow: The Ultimate Guide on How to Monetize Any Industry, Discover Proven Strategies on How to Make Money Out of Anything and Set Up Profitable Income Streams
Unabridged Audiobook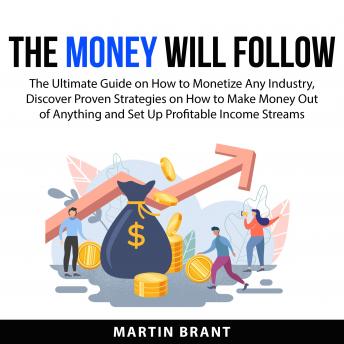 Duration:
0 hours 19 minutes
Summary:
The Money Will Follow: The Ultimate Guide on How to Monetize Any Industry, Discover Proven Strategies on How to Make Money Out of Anything, and Set Up Profitable Income Streams

One of the ways you can earn money online is to monetize your blog, website, and content on your other youtube channel and other social media sites. If you're not familiar with monetization, it is actually an umbrella term for a lot of assorted things, but in a much-generalized manner, monetization means making money out of things that people don't usually consider money-worthy. Monetization means making money out of ordinary things, in unexpected ways. You might have done some monetizing before already without realizing it. If you have an old vinyl record collection that you sold for a good sum, you monetized the collection.

There are a lot of things you can monetize and this audiobook will teach you all of them. You will learn various methods in which you can build streams of income for yourself, out of things that you never thought you could make money from.

This audiobook will discuss the following topics:

- The Name of the Game

- Making Money Out of Anything… Anything!

- Why You Just Cannot Forget the Internet

- Build Something Successful

- Goodwill Hunting and Finding Niches

- Promoting Your Stuff Online – When Does the Confidence Come?

- The Power of Viral Marketing

- Building Your Battalion of Interested People

- Setting Up Streams of Residual Income

- Realizing the Power of 'I Can

- And many more!

It is quite possible to make money out of scrap and junk if you set your mind to it. If there is something of real value, it is also possible to monetize it over and over again. To learn more, download your copy of The Money Will Follow today!
Genres: