The Monogram Murders: The New Hercule Poirot Mystery
Unabridged Audiobook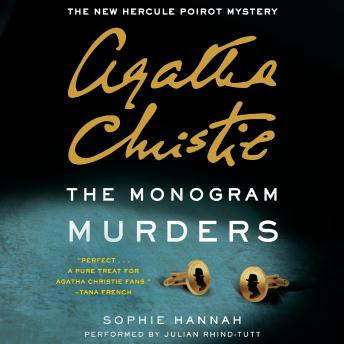 Duration:
11 hours 13 minutes
Summary:
Hercule Poirot's quiet supper in a London coffeehouse is interrupted when a young woman confides to him that she is about to be murdered. She is terrified—but begs Poirot not to find and punish her killer. Once she is dead, she insists, justice will have been done.

Later that night, Poirot learns that three guests at a fashionable London Hotel have been murdered, and a cufflink has been placed in each one's mouth. Could there be a connection with the frightened woman? While Poirot struggles to put together the bizarre pieces of the puzzle, the murderer prepares another hotel bedroom for a fourth victim…

Since the publication of her first novel in 1920, more than two billion copies of Agatha Christie's books have been sold around the globe. Diabolically clever, packed with style and wit, The Monogram Murders is a splendid addition to the world's biggest-selling series.
Genres: