Monster Hunt NYC
Unabridged Audiobook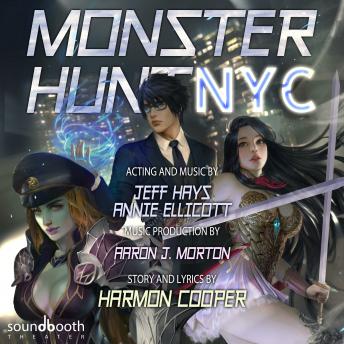 Duration:
7 hours 54 minutes
Summary:
Monsters have invaded New York City!

At least for those who have the illegal Monster Hunter app, like musician Chase Knowles.

Through the app, Chase becomes the Alpha to two powerful Huntresses: a sexy half-dragon whose combat prowess is matched only by her mouth, and a dangerously beautiful warrior with two killer blades and an insatiable appetite for… reading.

Avoiding arrest for long enough to earn some money is at the top of their To-Do list, but there's a sinister reason the app has been banned… And Chase isn't the only one playing with fire.

Warning: Monster Hunt NYC is a full audio drama that contains a light harem, augmented reality, fantasy violence, a ton of action, and GameLit and LitRPG concepts. It was inspired by the Persona games, Pokemon Go!, and Scott Pilgrim vs. the World.
Genres: