Moonshot: The Inside Story of Mankind's Greatest Adventure
Unabridged Audiobook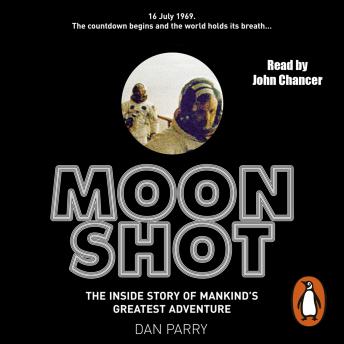 Duration:
10 hours 57 minutes
Summary:
'It didn't matter that they were now three miles beyond their target site, that communications were dropping out and that they were running low on fuel. All that mattered to Neil as he searched for a safe spot to land was that boulders littered the surface below. 'Thirty seconds,' called mission control. In truth, the flight controllers were now no more than spectators, just like everybody else. No more needed to be said. It was down to Armstrong.'

It was the ultimate journey and the last great adventure, but no one knew if they were coming back.

On 20 July 1969 millions of people around the world held their breath as a human being looked back at them from the surface of the Moon. Yet who were these men risking so much while the world watched? How did the passionate Buzz Aldrin, inscrutable Michael Collins and enigmatic Neil Armstrong learn to depend on one another as they endured the most intense period of their lives?

From the personal tragedies and triumphs they encountered along the way to the mission's terrifying climax, Moonshot - now also a major TV factual-drama - draws on interviews with many of the leading participants and hundreds of hours of archive material to tell the complete and compelling true story of an event that captured the imagination of generations, then and now.
Genres: