Moose on the Table: A Novel Approach to Communications @ Work
Unabridged Audiobook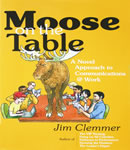 Duration:
5 hours 38 minutes
Summary:
Failed communications are crippling workplaces across the globe ' sapping energy from staff and weakening entire organizations.

Failure to address "Moose-on-the-Table" issues results in waste and rework, reduced productivity, workplace accidents, and plummeting morale. Of course, turnover also increases as frustration leads good people to look for more rewarding work elsewhere.

In this 'edutaining' organizational fable, you'll get realistic scenarios and solutions, showing how individuals and organizations should address issues that cost organizations millions or even billions of dollars in wasted effort every year.

Jim Clemmer's Moose on the Table: A Novel Approach to Communications @ Work, helps everyone at all levels within an organization reduce the moose by:

* Recognizing when personal and collective behavior attract moose.
* Building communication-rich environments that nurture authentic and open conversations.
* Spending less time on internal politics and turf protection, and more time serving external customers while moving the organization forward.
* Understanding what a high performance culture looks like and what it takes to build one.
* Putting practical action plans and leadership behaviors in place."
Genres: