Moses Fleetwood Walker: The Life and Legacy of the Last Black Man to Play Major League Baseball Before Jackie Robinson
A free trial credit cannot be used on this title.
Unabridged Audiobook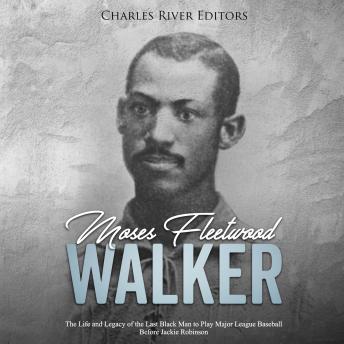 Duration:
1 hours 17 minutes
Summary:
Given his legacy, many Americans today believe Jackie Robinson was the first black man to play in Major League Baseball, but that answer is wrong. As far back as the late 19th century, there had been professional baseball leagues that were every bit as segregated as any other aspect of society, but before that, there were, for a brief shining moment, there were teams of black and white men playing with and against each other.
One of the first black men to play on such a team was Moses Fleetwood Walker, and he was the first who openly identified as black. In an essay entitled "African-Americans in Toledo Sports," one author observed, "Moses Fleetwood Walker's promising but all too short professional baseball career mirrors the experience of most of the great African American ballplayers before the Negro Leagues began play in the early twentieth century. Walker was a gifted defensive catcher and adequate offensive player, but his career would be cut short by racism...Walker, well educated for a man of any race in the late 19th century, respond to this racism first with ambivalence, later with anger, and finally with prose. Walker's seminal work, Our Home Colony put him directly in line with the thoughts and words of future leader Marcus Garvey in his call for a separation of the races and a return of African Americans to Africa." 
As racism and segregation successfully pushed black players out of professional baseball, it was all but forgotten that professional baseball had once been integrated before Jackie Robinson broke the color barrier, ensuring that the contributions of Walker and other early black athletes would be obscured and then eclipsed.
Genres: