The Most Beloved Children's Bedtime Story Collection: 60 Aesop's Fables for Kids, Little Red Riding Hood, the Three Little Pigs, Peter Rabbit, Snow White, Rapunzel, Cinderella, Aladdin & Many More
Unabridged Audiobook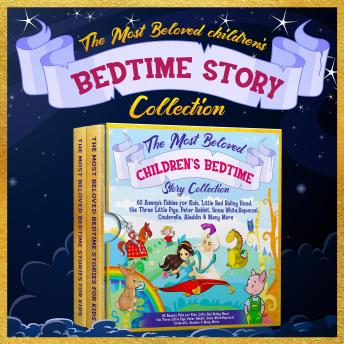 Duration:
6 hours 45 minutes
Summary:
ARE YOU READY TO LISTEN TO SOME OF THE MOST POPULAR AND MUST-HAVE BEDTIME STORIES FOR YOUR CHILD? IF SO, THEN KEEP READING …

Do you want easy to listen bedtime stories that will improve your child's creativity?

Or popular stories that will effectively put your child to sleep in no time?

Then this is the right audiobook for you!

In The Most Beloved Children's Bedtime Story Collection, you're going to discover a collection of the most beautiful classic fairy tales and memorable short stories; that every child must have.

You can be sure to catch the interest of your child, stimulate the imagination of your toddler and take the budding creativity of your youngster to new heights. There is a reason if these stories keep being handed down from generation to generation, right?

THIS BEDTIME STORIES COLLECTION INCLUDES:

o Little Red Riding-Hood

o Snow White and the 7 Dwarfs

o The Three Little Pigs

o Rapunzel

o Beauty and The Beast

o The Sleeping Beauty

o Cinderella

o The Little Mermaid

o Hansel and Gretel

o The Tale of Peter Rabbit

o The History of Tom Thumb

o Jack and the Beanstalk

o Aladdin and the Wonderful Lamp

o Goldilocks and the Three Bears

o The Ugly Duckling

o Ali Baba and the Forty Thieves

o Puss in Boots

o Rumpelstiltskin

60 ÆSOP'S FABLES FOR CHILDREN:

o The Fox and the Grapes

o The Ants and the Grasshopper

o The Lion and the Mouse

o The Owl and the Unicorn

o The Monkey and the Dragon

o The Wolf and the Lamb

o The Monkey and the Cat

o The Bear and the Bees

o The Cock and the Fox

o AND MANY MORE!

SCROLL UP, CLICK ON "BUY NOW", AND YOU'LL SPEND QUALITY TIME WITH YOUR KIDS THAT THEY'LL CHERISH FOR LIFE!
Genres: