Mr. Huston / Mr. North: Life, Death, and Making John Huston's Last Film
Unabridged Audiobook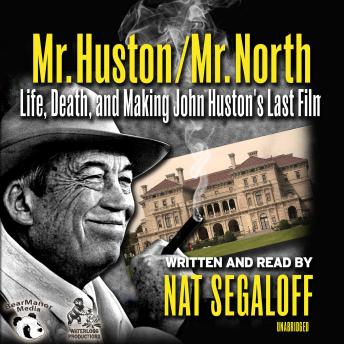 Duration:
3 hours 59 minutes
Summary:
Journalist, producer, and film historian Nat Segaloff takes listeners behind the scenes during the final days of the great Hollywood filmmaker John Huston (The Maltese Falcon, The African Queen).

In the summer of 1987, a group of the screen's most notable stars gathered in glamorous Newport, Rhode Island, to make Mr. North, a charming but unpretentious film about a magical man who turns the town upside down. They included Anthony Edwards, Anjelica Huston, Lauren Bacall, Harry Dean Stanton, Virginia Madsen, Tammy Grimes, and a host of other talents, including legendary director John Huston.

The filmmaker was Danny Huston, John's son. But just as the cameras turned, John fell ill and was replaced by Robert Mitchum. There were daily reports on Huston's failing health, and the world wondered whether the lion of Hollywood, after surviving so many close calls with death over the years, would finally succumb.

Nat Segaloff was the only journalist—the only outsider, in fact—allowed onto the set and behind the scenes of Mr. North, and he reported on it for the Boston Herald—but only some of it.

Now, after more than a quarter century, the full story can be told of the daily interactions of these famous egos struggling to finish their movie while overshadowed by the one person who wasn't even in it.
Genres: