Mrs. Mike
Unabridged Audiobook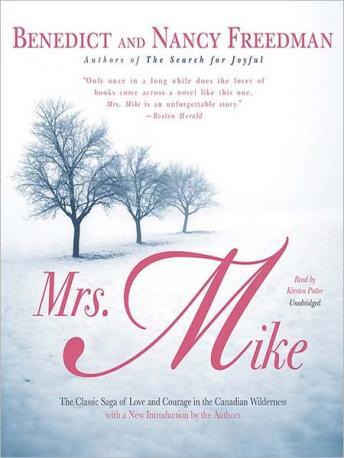 Duration:
11 hours 33 minutes
Summary:
A moving love story set in the Canadian wilderness, Mrs. Mike is a classic tale that has enchanted millions of readers worldwide. It brings the fierce, stunning landscape of Canada to life and tenderly evokes the love that blossoms between Sergeant Mike Flannigan and beautiful young Katherine Mary O'Fallon.
Recently arrived in Calgary, Alberta, Canada, after a long, hard journey from Boston, sixteen-year-old Katherine Mary O'Fallon never imagined that she could lose her heart so easily or so completely.
Mike Flannigan, standing over six feet tall, with "eyes so blue you could swim in them," is a well-respected sergeant in the Canadian Mounted Police and a man of great courage, kindness, and humor. Together, he and his beloved Kathy manage to live a good, honest life in this harsh, unforgiving land and to find strength in a love as beautiful and compelling as the wilderness around them.
Genres: