My Man's Best Friend II: Damaged Relations
Unabridged Audiobook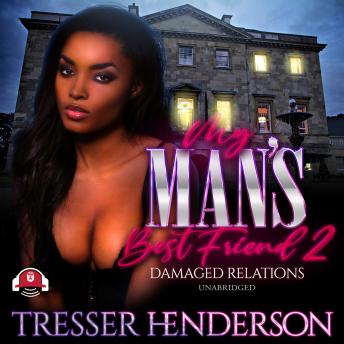 Duration:
9 hours 11 minutes
Summary:
Dark secrets and hot passion abound in this dramatic new novel in a sizzling series that will keep readers begging for more.

Love happens when you least expect it. Derrick knows this all too well after falling for Kea, his best friend's girlfriend. But as fate would have it, he has just found out the love of his life is also his sister. Derrick is devastated by the news, but the beautiful and alluring Trinity is more than eager to help him forget about the turmoil he's going through. Little does Derrick know that Trinity has her own secrets, and she's willing to do whatever it takes to keep them buried.

Kea understands the emotional rollercoaster Derrick is on, because she's on her own downward spiral. Kicking her boyfriend Jaquon out of her life is a start, but it won't solve everything, because in spite of it all, she's still in love with him.

Jaquon knows Kea means it this time, and he's determined to change for the better to get his baby back. He's slowly working his way back into Kea's good graces, but he's not alone in his quest for her heart. Derrick, who believes the DNA test is not true, convinces Kea to have another test done to prove they are not related. Trinity, Jaquon, and even Zacariah are against this test happening, afraid it will change the dynamics of their relationships.

Not every story has a happy ending. Will anyone succeed in getting the love they are so eagerly seeking? And who will be left mourning the loss of a loved one? Tresser Henderson continues to deliver the drama in My Man's Best Friend II.
Genres: