The Myth of Laziness: America's Top Learning Expert Shows How Kids--and Parents--Can Become more Productive
Abridged Audiobook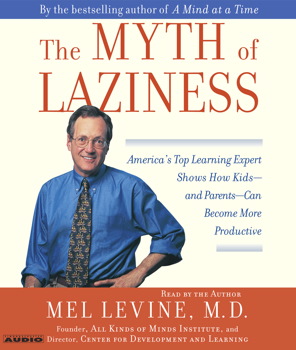 Duration:
5 hours 0 minutes
Summary:
"When we call someone lazy, we condemn a human being," writes Mel Levine, M.D. In The Myth of Laziness, the bestselling author of A Mind at a Time shows that children dismissed as unproductive or "lazy" usually suffer from what he calls "output failure"—a neurodevelopmental dysfunction that can continue to cause difficulties into adulthood if left unchecked.

The desire to be productive is universal, says Dr. Levine, but that drive can often be frustrated by dysfunctions that obstruct output or productivity. Drawing on his clinical experience and using real-life examples of both children and adults he has worked with, Dr. Levine shows how to identify and remedy these dysfunctions. A child suffering from language production dysfunction, for example, may be incapable of clearly expressing or explaining his thoughts, thereby leading to low productivity in school. A child who has difficulty making choices may wait until it is too late to complete a project or may act impulsively, creating a pattern of bad judgments. Similarly, a child with memory weaknesses may be unable to draw on his accumulated knowledge for an assignment. In each of these cases, as Dr. Levine shows, writing skills are often the key to diagnosing specific causes of output failure.

Practical, wise, and compassionate, The Myth of Laziness offers parents and teachers day-to-day strategies and support to prevent output failure and, when necessary, to help children overcome dysfunction and become productive, successful adults.
Genres: