Myths of Choice: Why people won't change and what you can do about it
A free trial credit cannot be used on this title.
Unabridged Audiobook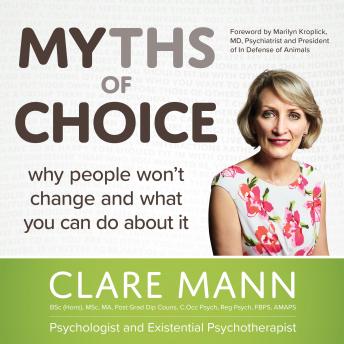 Duration:
6 hours 0 minutes
Summary:
Why is it that some people refuse to change, even when all evidence shows that their current actions are harmful to themselves or others? Why do people prefer to live in ignorance rather than accept new information and create change in their lives? 

Dealing with this kind of stubbornness or wilful ignorance can be immensely frustrating. But what if you understood the reasons for this behaviour — and had the power to influence them to change?

Myths of Choice: why people won't change and what you can do about it is an exploration of the reasons people are so resistant to change. Using the analogy of myths, the book takes you step-by-step through a practical understanding of existential psychology, and how it might apply to your own and others' lives. It serves as a guide to identifying your own deep-seated beliefs and internal resistance to change, and how in turn you can help others to recognise this and work towards new and more rewarding choices and behaviours.

Bestselling author Clare Mann; an existential psychotherapist, vegan psychologist, communications trainer uses her professional experience to take the reader through a series of activities which help to increase understanding and recognition of myths and beliefs which affect their life. By opening one's eyes to the processes and function of our brain, she helps to explain how and why people resist change, even in the face of clear facts and information.
Genres: