Napa at Last Light: America's Eden in an Age of Calamity
Unabridged Audiobook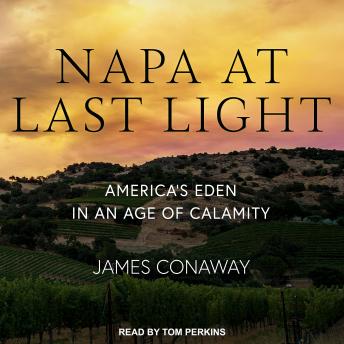 Duration:
10 hours 35 minutes
Summary:
Not so long ago, wine was an exclusively European product. Now it is thoroughly American; emblematic of Napa Valley, an area idealized as the epicenter of great wines and foods and a cultural tourist destination. But the romanticized accounts you find about it and its denizens is not what you'll encounter in James Conaway's candid book.

Napa at Last Light exposes the often shadowy side of the latter days of Napa Valley-marked by complex personal relationships, immense profits, passionate beliefs, and sometimes desperate struggles to prevail. In the balance hang fortunes and personal relationships made through hard work and, in too many cases, manipulation of laws, people, and institutions.

Napans who grew up trusting in the beneficence of the "vintner" class now confront in the twenty-first century multinational corporations and their allies who have stealthily subsumed the old family landmarks and abandoned the once glorious conviction that agriculture is the highest and best use of the land. Inherent in that conviction is the sanctity of the place, threatened now by a relentless drive for profits at the expense of land, water, and even life.
Genres: