Never Broken: The Ultimate Guide to Staying Positive At All Times, Discover the Ways on How to Have Relentless Optimism As a Key to Overflowing Happiness and Success in Life
Unabridged Audiobook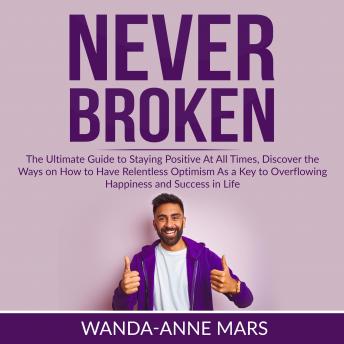 Duration:
0 hours 23 minutes
Summary:
Never Broken: The Ultimate Guide to Staying Positive At All Times, Discover the Ways on How to Have Relentless Optimism As a Key to Overflowing Happiness and Success in Life

Having a bright and cheery disposition can affect more than just your current mood. There's been a lot of studies and research that show that optimism can help people with their overall health and allow them to live longer. It also helps them become more committed to achieving their goals so people with a positive outlook in life are more successful than those who are always thinking negatively.

This audiobook will teach you effective strategies on how to develop a mindset that is full of relentless optimism. You will discover the benefits of living with a positive outlook on life. You will learn how to make positive changes in your life through your positive outlook that will lead you to greater success.

This audiobook will discuss the following topics:

- What is Optimism

- Benefits of Optimism

- Boost Your Optimism When the Glass is Half-Empty

- Optimism and Relationships

- Why Some People Are Pessimists and How to Stop

- Optimism and Gratitude

- Optimism and Self-Confidence

- Daily Optimism Habits

Being an optimist does not mean that you are not thinking realistically. It just means you are always hopeful for the best outcome possible and always looking at the glass half-full instead of half-empty.

If you want to know more about how you can develop an optimistic attitude and mindset to live a happier and more meaningful life, scroll up and click 'add to cart' now.
Genres: