Never Hit a Jellyfish with a Spade: How to Survive Life's Smaller Challenges
Unabridged Audiobook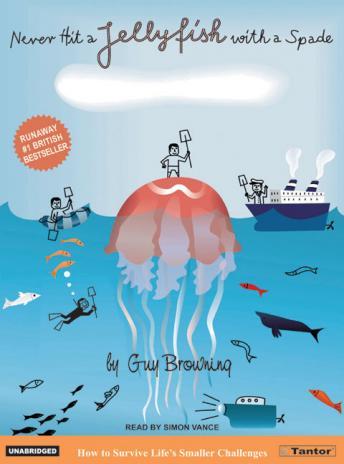 Duration:
6 hours 0 minutes
Summary:
The big things in life look after themselves. Birth, love, death-they're all terrifically exciting, but they happen whether we like it or not. It's the little things in life that cause the most trouble. How do you deal with the million and one everyday challenges?

Help is at hand. For the first time you can get intelligent, practical tuition on the level you need it: the trivial level. After years of exploring the small pockets in life's backpack in his celebrated 'How to' column in the Weekend Guardian, Guy Browning has the rules that can help you move safely and effortlessly through the micro-chicanes on life's byways, including:

-How to evaluate a bottle of wine (if the alcohol content is less than 15 percent, send it straight back)

-How to get what you want at the barber's (no multipart instructions, please)

-How to stay warm in bed (when your partner has cold feet and steals the covers)

-How to be a fashionista (when your twenty-year-old wardrobe is suddenly back in vogue)

-How to pretend to laugh at a friend's joke (the closest most men get to faking orgasm)

-How to fix a computer (If restarting it doesn't work, turn it off and go back to a preindustrial lifestyle.)

Covering cooking and eating, sleeping and waking, men and women, love and marriage, religion and politics, hedges and neighbors, Never Hit a Jellyfish with a Spade delivers the truth about the things that really matter. With a package as fun as its contents, it's the ideal gift for anyone who wants to live life with a sense of humor.
Genres: