Never In Your Wildest Dreams: A Transformational Story to Tap Into Your Hidden Gifts to Create a Life of Passion, Purpose, and Prosperity
A free trial credit cannot be used on this title.
Unabridged Audiobook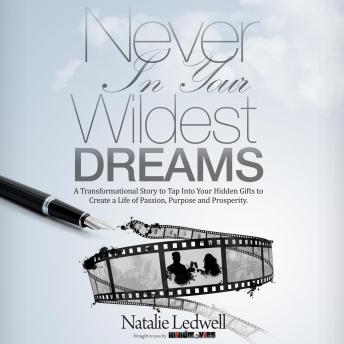 Duration:
3 hours 55 minutes
Summary:
In Never in Your Wildest Dreams, Natalie Ledwell takes you on the journey of Katherine Murray, who moves from extreme debt, depression, and despair to superstar award-winning screenwriter status in record time. Ledwell's book reveals the exact steps, inspired by her own quest for success, to achieving any goal you set or have never even dreamed of yet. This unique Interactive System not only tells a captivating, awe-inspiring story, but also provides everything readers need to transform their own dreams into reality.

Included in the book is a backstage pass to each chapter with videos from Ledwell herself. Between the spellbinding story, the life-altering secrets to success, and the immediate impact it will have on their lives, readers will quickly find themselves inspired by Ledwell's words as they turn to this book as a life resource again and again.

From a life of money problems, relationship struggles, and the desperate yearning for happiness that anyone can relate to, Ledwell tells the story of one woman's path to success. There is no luck involved. It doesn't have to happen to just a few. Astonishing success can happen to anyone if they just follow these secrets and insights.
Genres: