The New Adventures of Michael Shayne, Vol. 1
Unabridged Audiobook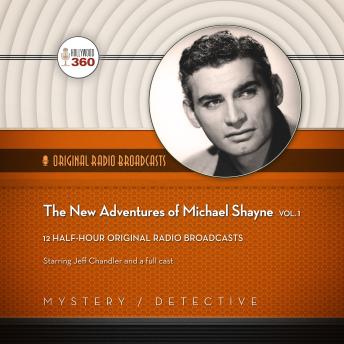 Duration:
5 hours 30 minutes
Summary:
Michael Shayne, "the reckless, red-headed Irishman," was a popular hard-boiled detective created by crime novelist Brett Halliday. Mike settled in New Orleans just after World War II, making crime pay by fighting it with a license and an attitude.

Like Mike Hammer and Philip Marlowe, Shayne is a loner. Once happily married, Mike is devastated when his wife is suddenly and tragically murdered. Grief-stricken, Shayne loses himself in his work as a private eye, prowling the dark streets of New Orleans, seeking out his style of revenge on injustice.

The radio version of Mike's exploits debuted as Michael Shayne, Private Detective in the fall of 1944 with Wally Maher in the title role. In 1948 Mutual Radio debuted The New Adventures of Michael Shayne starring movie star Jeff Chandler. Simultaneously in 1948, Chandler was playing bashful biologist Philip Boynton, the love interest on Our Miss Brooks, proving he could handle comedy as well as dramatic roles.
Genres: