The New Deal: A Modern History
Unabridged Audiobook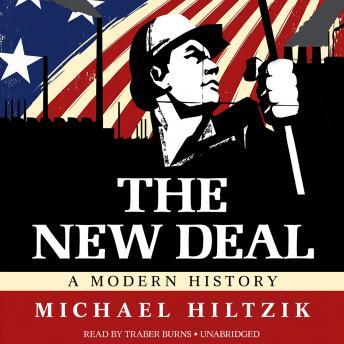 Duration:
19 hours 38 minutes
Summary:
New York Times bestselling author and Pulitzer Prize–winning journalist Michael Hiltzik tells the epic story of the New Deal through the outsized personalities of the people who fought for it, opposed it, and benefited from it, rendering vital lessons for our own time.
As America struggles with an economic debacle akin to the Great Depression, nothing could be timelier than an authoritative account of the New Deal, masterfully written by Michael Hiltzik, author of the acclaimed history of the Hoover Dam, Colossus.
In this richly peopled, vividly rendered narrative, Hiltzik describes how the urgent short-term relief measures of Franklin Roosevelt's Hundred Days evolved into a transformative concept of the federal role in American life. Rather than the product of a single ideology, the New Deal emerged from the clash of ideas held by advisors from very different backgrounds. With historical and psychological insight, Hiltzik sheds light on the lives of the gargantuan characters who fought for and against it: Herbert Hoover, whose own administration gave birth to many of the programs that would become part of the New Deal; General Hugh Johnson, the West Pointer whose pugnacious leadership of the National Recovery Administration symbolized the New Deal for millions of Americans; Harry Hopkins, whose closeness to Roosevelt earned him the moniker "deputy president"; and many other fascinating figures. What emerges is a saga of how FDR managed to recast the federal government into something that still inspires: a unifying structure with the concept of social justice at its heart.
Genres: