New IT Technology Issues Facing CIOs: How CIOs Can Stay On Top of the Changes in the Technology That Powers the Company
Unabridged Audiobook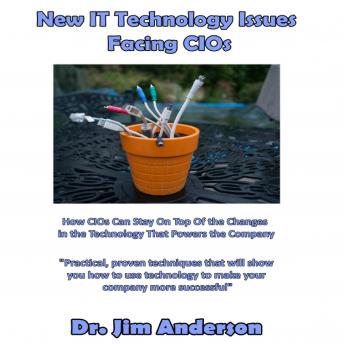 Duration:
0 hours 50 minutes
Summary:
It's always been known that the job of being CIO is a tough job. One of the reasons that this job is so hard to do well is because we stand on shifting ground. The technology that we use goes out of style and then gets replaced by new technology almost overnight.


What You'll Find Inside:


CRM NEWS: THE BUSINESS OF INFORMATION TECHNOLOGY IS CHANGING
PRACTICAL IT CLOUDS: WHAT TO DO AFTER THE HYPE
UNIFIED COMMUNICATIONS IS AN OPPORTUNITY FOR CIOS TO SHOW THEIR VALUE
WEB 3.0 IS COMING - ARE CIOS READY?


One of your tasks as CIO is to be able to take a look at new and emerging technologies and determine which of these will impact your company. Due to the size of this task, it is often helpful to go to outside sources to get help in evaluating all of the new technologies. Almost all of the emerging technologies involve massive amounts of data. How to store, process, and create results from this data is one critical new technology that all CIOs will have to master.


In the world of IT, big projects make up a lot of what we do. Things like implementing new and novel customer relationship management (CRM) systems or special purpose applications like have been done for the London Stock Exchange are what we do. However, once done, we are then responsible for ensuring that our creations stay up and running.


Decisions are a key part of being a CIO. No matter if it's trying to decide between an Apple based product or a Windows product, these are never easy decisions. As changes have rolled through the world of healthcare, CIOs have been drawn in and have had to make many different decisions about how systems should operate.


Keeping your company out in front of the competition is part of the job of being CIO. What this entails these days is that you need to be able to implement complex-event processing and start to move key business applications to the cloud.
Genres: