Night Shift
Unabridged Audiobook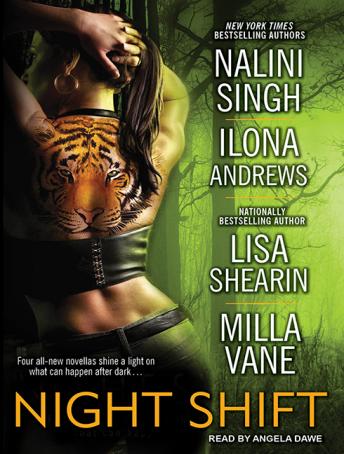 Duration:
13 hours 13 minutes
Summary:
New York Times bestselling author Nalini Singh delivers a smoldering story with Secrets at Midnight, as the scent of Bastien Smith's elusive lover ignites a possessiveness in him that's as feral as it is ecstatic. And now that he's found his mate, he'll do anything to keep her.

In #1 New York Times bestselling author Ilona Andrews's novella Magic Steals, when people start going missing, shapeshifting tigress Dali Harimau and jaguar shifter Jim Shrapshire must uncover the truth about the mysterious creatures responsible.

In Milla Vane's The Beast of Blackmoor, a warrior princess must tame a savage beast to earn a place among her people. But she quickly discovers that the beast isn't a monster but a barbarian warrior who intends to do some taming himself.

It's seer Makenna Frazier's first day on the job at Supernatural Protection and Investigations, when bodyguard duty for a leprechaun prince's bachelor party goes every which way but right in nationally bestselling author Lisa Shearin's Lucky Charms.
Genres: