NLP Sales Skills With Terry Elston
Unabridged Audiobook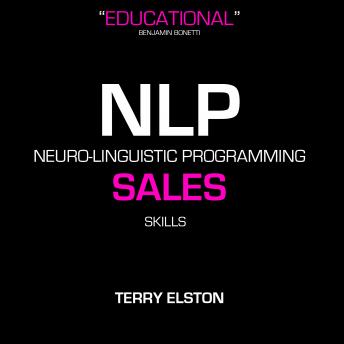 Duration:
0 hours 47 minutes
Summary:
On this audio recording, Terry Elston guides you through all aspects of the steps to selling successfully.
* Be guided on the six steps to successful selling
* How to create in depth rapport almost immediately
* How to use sensory language and sensory awareness
* Learn how to NOT go forwards unless you have completed each step
* Be inspiring by asking the RIGHT questions to guide your clients into
buying, rather than you selling!
* Learn about values and hot buttons
* How to close a deal without asking for a sale

The whole aspect of selling is often misunderstood or misrepresented. Selling or Selje (from old Norwegian) originally meant to serve.
Terry shows you six easy-to-learn steps that will guide you through a sales process to completion or close. You will always know where you are in the sales process and you will know when it's time to pitch or to close or even not to ask for a sale at all.

We start you with how to ask questions to get important information about your clients, before you go into any kind of pitch or attempt at getting business. We show you how rapport is the keystone of any selling success and with rapport you can gain the time and space to find out everything you need to know to get a sale.
Terry Elston, they will guide you through the easy to learn steps with examples to embed the messages across to you.
"Terry brought a new angle to sales training with his unique style and NLP techniques. I must say we are richer in knowledge and application of this style of connecting with our tough audience than ever before. When applied, the NLP methodology reaps the benefits by connecting on a deeper level with the customers to deliver results" - Eva Minkov, General manager, Mundipharma, South Africa
Terry has been working within the corporate sector using NLP for many years. Governments, Schools, The Police Force and 21 blue chip companies have been using Terry and his NLP trainers for powerful communicating and sales trainings.
Genres: