No Buddy Left Behind: Bringing US Troops' Dogs and Cats Safely Home from the Combat Zone
Unabridged Audiobook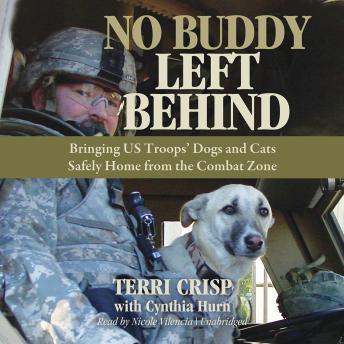 Duration:
8 hours 21 minutes
Summary:
Includes bonus photographs!
The love of a dog or cat helps heal soldiers' emotional trauma. One very special woman and program reunites them after the war.
"I have sacrificed a lot to serve my country. All that I ask is to be allowed to bring home the incredible dog that wandered into my life here in Iraq and prevented me from becoming terribly calloused towards life."—a soldier requesting help from Operation Baghdad Pups
No Buddy Left Behind is an animal book with a difference. It is not only about rescued dogs and cats but also about US soldiers trying to survive the horrors of war and readjust to life back home. It unveils the life-altering relationships American troops serving in the Middle East share with the stray dogs and cats they rescue from the brutalities of war. Overcoming monumental obstacles, Terri Crisp makes it her mission to save these wartime "buddies," get them out of danger, and bring them home to the soldiers who love them.
So, how does someone get animals out of a country at war when normal resources are lacking and every step of a plan to transport animals could get you arrested, kidnapped, or blown apart? As Crisp soon learns, each rescue mission from first to last is a fly-by-the-seat-of-your-pants experience, and no animal is truly safe until its paws touch American soil. Terri and her team have saved the lives of 223 dogs and 42 cats befriended by military personnel since February 2008—and No Buddy Left Behind finally tells this story.
Genres: