No One Ever Told Us That: Money and Life Lessons for Young Adults
Unabridged Audiobook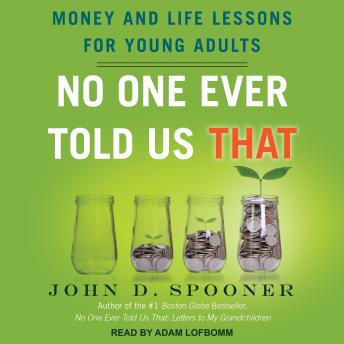 Duration:
4 hours 26 minutes
Summary:
The 'new grownup' guide to managing your life and money in the modern economy.

No One Ever Told Us That is a series of essential life and financial lessons that every adult needs to read before they embark upon their own life's adventures. You've completed your education, your couch surfing, and your internships-now it's time to grow up. You have a 'real' job, maybe a family, and maybe a mortgage; but you've been launched into an uncertain world. This book is your much-needed guide to life as an adult, giving you the answers you need about becoming a professional, becoming financially secure, and becoming your own person. You see the world differently when you spend your days supporting yourself and your family, and money management quickly becomes an integral part of everything you do. This useful guide shows you how to do what you need to do, find the people you need on your side, and fulfill your obligations to those who matter most to you.

Nothing in your experience has ever prepared you for the responsibility of responsibility. You've been thrown into the deep end, the undertow is strong, and the stakes are high-it's time to start swimming. No One Ever Told Us That gets you right on track to your brightest future.
Genres: