No One You Know
Unabridged Audiobook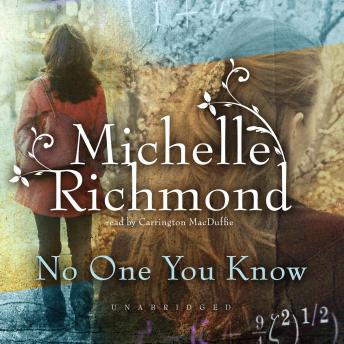 Duration:
9 hours 21 minutes
Summary:
All her life Ellie Enderlin had been known as Lila's sister. Then one day, without warning, the shape of their family changed forever. Twenty years ago, Lila, a top math student at Stanford, was murdered in a crime that was never solved. In the aftermath of her sister's death, Ellie entrusted her most intimate feelings to a man who turned the story into a bestselling true crime book-a book that both devastated her family and identified one of Lila's professors as the killer.

Decades later, two Americans meet in a remote village in Nicaragua. Ellie is now a professional coffee buyer, an inveterate traveler incapable of trust. Peter is a ruined academic. Their meeting is not by chance. As rain beats down on the steaming rooftops of the village, Peter leaves Ellie with a gift-the notebook that Lila carried everywhere, a piece of evidence not found with her body. Stunned, Ellie returns home to San Francisco to explore the mysteries of Lila's notebook, filled with mathematical equations, and begin a search that has been waiting for her for two decades. It will lead her to a hundred-year-old mathematical puzzle, to a lover no one knew Lila had, to the motives and fate of the man who profited from their family's anguish-and to the deepest secrets even sisters keep from each other. As she connects with people whose lives unknowingly swirled around her own, Ellie will confront a series of startling revelations-from the eloquent truths of numbers to confessions of love, pain, and loss.

A novel about the stories and lies that strangers, lovers, and families tell-and the secrets we keep even from ourselves-Michelle Richmond's novel is a work of astonishing depth and beauty, at once heartbreaking, provocative, and impossible to put down.
Genres: