No Wings To Fly: a powerful saga of passion and pain set in the heart of rural England
Unabridged Audiobook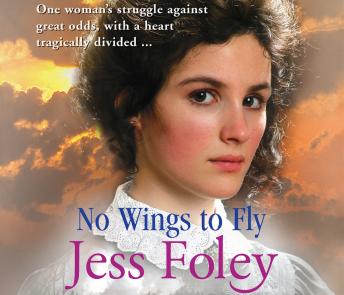 Duration:
21 hours 3 minutes
Summary:
If you like Catherine Cookson, Dilly Court and Katie Flynn, then you will love this breath-taking saga of one of love, passion, betrayal, tragedy and longing by much loved author Jess Foley. This unmissable and unputdownable saga is one you will never forget...

'Compulsive and well-paced' -- Wiltshire Times
'A gripping saga... What makes this particular novel such compelling reading is its expertly researched background... The author writes with exuberance and style, and the central characters are totally convincing.' -- Northampton Chronicle & Echo
'A stunning read' -- ***** Reader review
'Excellent read - I couldn't put in down' -- ***** Reader review
'This book is really good: it's sad, exciting, tragic - you have it all in this book' -- ***** Reader review

*******************************************************************
ONE WOMAN'S STRUGGLE FOR HAPPINESS

Having spent her childhood with a cold, unfeeling stepmother, Lily Clair's life is changed for ever when she is sent as general maid to old friends of her family. When Joel - handsome son of a wealthy entrepreneur - enters her life, their meeting is for Lily, young and vulnerable, a revelation.

Riding high on the crest of her new-found happiness she is in no way prepared for the violent attack that comes in the night, or for its devastating, life-changing consequences. But she must live with the consequences as, with a shattered heart, she deals with one hand of fate after another.

In her search for happiness, Lily is a woman who will capture your heart and stay with you forever...
Genres: