No Wonder My Parents Drank: Tales from a Stand-Up Dad
Unabridged Audiobook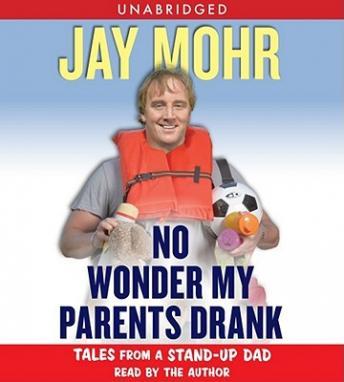 Duration:
6 hours 36 minutes
Summary:
YOU'LL NEVER SLEEP IN THIS TOWN AGAIN

From Saturday Night Live to stand-up, from a blockbuster film career to the star of CBS's hit television show Gary Unmarried, Jay Mohr is one of the funniest people in comedy today. Now, in this down and dirty tale of modern fatherhood, Mohr shares his stories as a first-time parent.

No Wonder My Parents Drank reveals the details behind Mohr's humiliating test-tube conception attempts and then recounts the trauma of not only having to keep this child alive, but having to spend time alone with him! He waxes poetic about dirty diapers; spins theories on spanking; and mulls over the more hidden advantages of parenthood, like carpool lane access, carte blanche to use the ladies restroom, and an alibi for missing family dinners. Mohr describes, in painfully funny detail, the bizarre situations that all parents inevitably face but can never prepare for (such as when his kid discovered his dog's rear end) as well as moments of pure joy like taking his son to his first baseball game.

Mohr reports on the hilarious wisdom that his son, Jackson, has taught him—like why it's fun to play 'Kissy Boy' with the other boys at recess, how important sunscreen is for avoiding a 'sunborn,' and how awesome it is to get a 'rainbow belt' in karate.

Riotously acerbic and refreshingly honest, No Wonder My Parents Drank casts the very funny Jay Mohr with an even funnier mini-me sidekick as a supporting character in a little comedic love story that every person who either is a parent or has a parent will find delightful.
Genres: