Noir
Unabridged Audiobook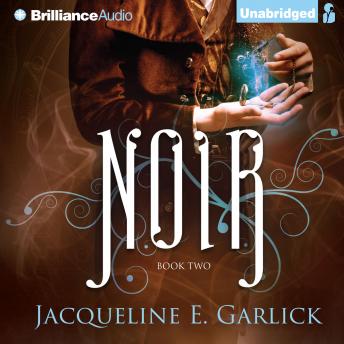 Duration:
12 hours 44 minutes
Summary:
Losing him would make her overcast world one shade darker....



Navigating her way through nightmarish lands devoid of sunlight, Eyelet Elsworth races to free her beloved Urlick Babbit, the first person to understand and accept her-differences and all. Framed for murder and sentenced to execution, Urlick is running out of time. And the Commonwealth's tyrannical new ruler, Penelope Rapture, is strangely eager to speed up the clock.



Aided by a band of unusual yet loyal associates, Eyelet stumbles upon a startling truth. And as she unravels a secret that could challenge Penelope's claim to the throne, Penelope vows to divert Eyelet's journey-straight to a dark and deadly end.



In Noir, the second thrilling addition to Jacqueline Garlick's Illumination Paradox series, familiar friends struggle against new and old enemies, shocking secrets come to light, and the truth that could save this captivating steampunk world is revealed-if it doesn't destroy everything first.
Genres: