North American Whitetail Deer Mini Hunting Guide
A free trial credit cannot be used on this title.
Unabridged Audiobook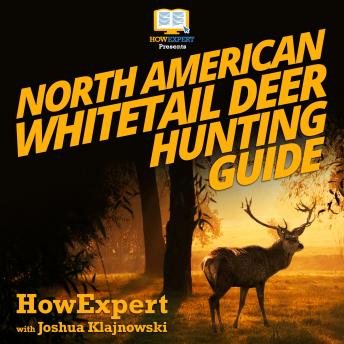 Duration:
1 hours 6 minutes
Summary:
• The guide is meant for those with all levels of experience in hunting. This includes those who are simply looking into the prospect of archery hunting to seasoned hunters who are looking to look elsewhere for new hunting practices.

• Starting things off the guide will go over everything a good hunter will need in order to properly hunt the elusive whitetail deer. Since there are so many manufacturers out there today, the guide goes over the major differences in different equipment; from compound bows and recurves to the several styles of tree stands. It is an extensive look at the major components.

• Equipment is not enough to make a good hunter as the guide then goes into an extensive collection of tips and tricks one would need to successfully hunt a whitetail deer. This includes how to walk into the wood, selecting the right spot, and the proper way to setup.

• The guide follows through all the way to the shot and the aftermath. Hunters will learn the proper way to track the deer after the shot and how to field dress it when it is properly found.

• Ending, hunters will learn how to bring that deer from the woods to the dinner plate. Tips and tricks are available to properly skin and quarter the deer to harvest the choice piece of meat.

About the Expert

The author has been practicing archery for over twenty years, starting back on his fifth birthday. Seven years later, he began archery hunting with his father, a seasoned hunter of thirty-plus years. The two belonged to an organization that is contracted by the local county in Pennsylvania to go into the parks to help handle the overgrowing whitetail deer population. The author also works with the organization to process the deer taken out of the parks for a local food bank. On average the group manages to process over two thousand pounds of deer meat during the hunting season.

HowExpert publishes quick 'how to' guides on all topics from A to Z by everyday experts.
Genres: