The Nursery
Unabridged Audiobook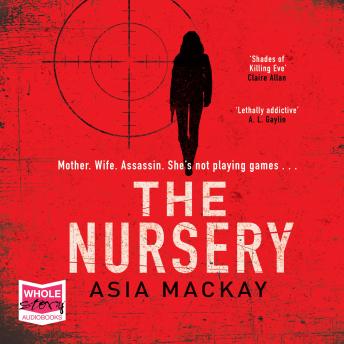 Duration:
10 hours 36 minutes
Summary:
ASSASSIN. MOTHER. WIFE. MEET THE NEW HEROINE FOR OUR TIMES.

'Brilliant and funny' HUGH GRANT

'Witty and original' CLARE MACKINTOSH

'I ABSOLUTELY LOVED IT!' MARIAN KEYES

Lex Tyler is trying to have it all.

But being a working mother is so much more difficult when you're a secret agent for an underground branch of the security services.

Platform Eight have been tasked with tracking down and eliminating the traitor in MI6 who has been selling information to the highest bidder through a headhunting website for the criminal underworld that connects intelligence operatives with all manner of bad people with a simple right swipe. Deals get made. Secrets get sold. Missions fail, and agents die.

Lex's own home life is not much easier. With a husband who rings her in the middle of a gunfight to complain she's yet again forgotten to pick up his dry-cleaning, and a two-year-old daughter who has a newfound love of biting, surviving both the Terrible Twos and a traitor might just be too much for one exhausted mother to handle.

Red Sparrow meets Mick Herron in this gripping and witty page-turner about having it all, keeping it all and surviving it all.
Genres: