Of a Fire on the Moon
Unabridged Audiobook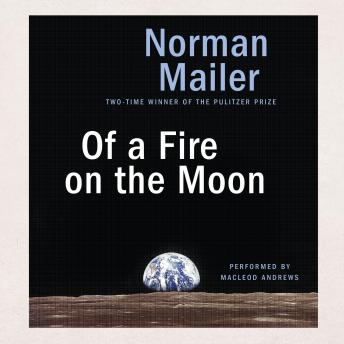 Duration:
17 hours 33 minutes
Summary:
For many, the moon landing was the defining event of the twentieth century. So it seems only fitting that Norman Mailer-the literary provocateur who altered the landscape of American nonfiction-wrote the most wide-ranging, far-seeing history of the Apollo 11 mission. A classic chronicle of America's reach for greatness in the midst of the Cold War, Of a Fire on the Moon compiles the reportage Mailer published between 1969 and 1970 in Life magazine: gripping firsthand dispatches from inside NASA's clandestine operations in Houston and Cape Kennedy; technical insights into the mag¬nitude of their awe-inspiring feat; and prescient meditations that place the event in human context as only Mailer could.

"Mailer's account of Apollo 11 stands as a stunning image of human energy and purposefulness.... It is an act of revelation-the only verbal deed to be worthy of the dream and the reality it celebrates." -Saturday Review

"A wild and dazzling book." -The New York Times Book Review

"Still the most challenging and stimulating account of [the] mission to appear in print." -The Washington Post
Genres:
1 of 1 people found this review helpful.